Wind Energy Consulting
Evans Engineering has the ability to conduct and document definitive impact analyses in order to determine the extent to which the construction of a proposed wind farm project could cause a significant disruption to the service areas of public safety, business and industrial over-the-air communications, as well as TV and broadcast reception.
Our study evaluates broadcast, land mobile, wireless, public safety, microwave, radar and other RF spectrum users within the designated impact area.  The study is conducted using industry and FCC standard procedures and equipment, and a final report is submitted outlining expected effects, alternatives, mitigation procedures and recommendations.  Click here to see a sample of one of our wind studies.
Microwave studies can be conducted in one of two ways.  If your turbine layout is still in process, Evans Engineering will assist you by performing a "black out" study, which will help you to determine where to place your turbines.  Or, if your layout is complete, we will provide information on each turbine location to determine mitigation measures.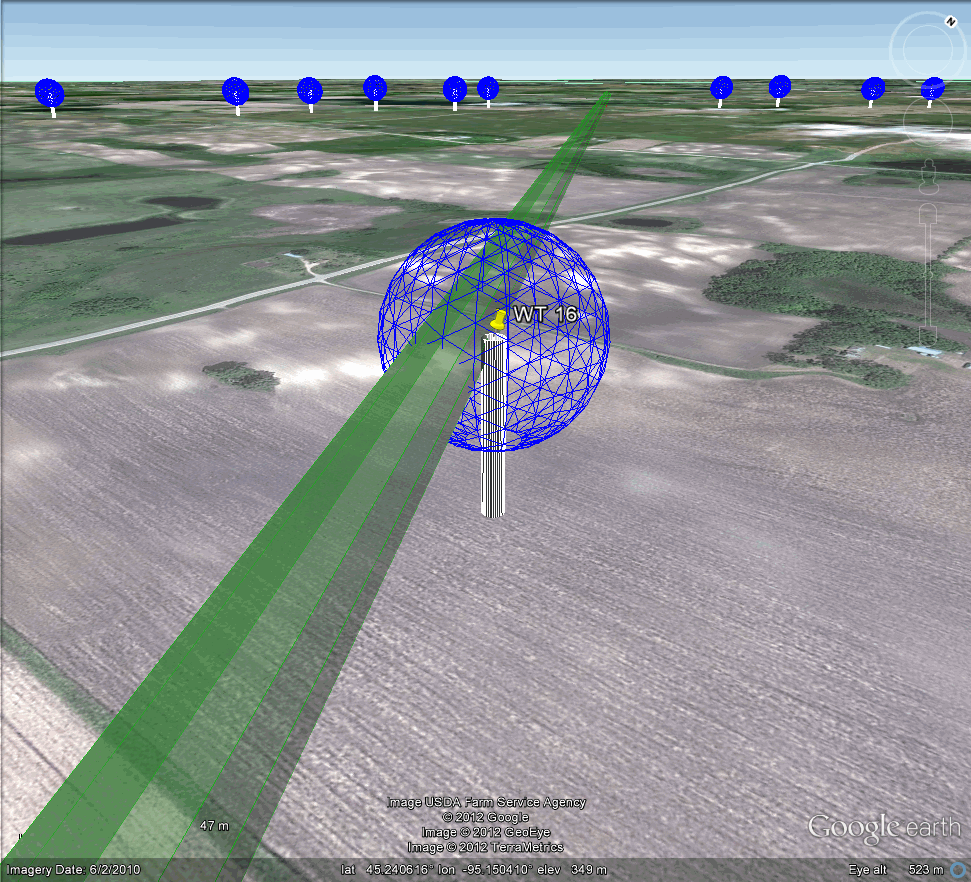 Google Earth Image Showing Microwave Beam Path Partially Blocked By A Wind Turbine
In many cases, an on-site inspection of the wind project area by one of our engineers is warranted in order to search for undocumented communications towers and transmitting facilities that aren't licensed by the FCC.  If you need someone to go to your site to search for undocumented towers or take pre-construction signal level measurements on radio or TV facilities in the area, we would be happy to assist you.
We will work with you to determine what your current needs are and provide you with the best possible solution.